Had everything gone according to the plan*, at this moment I could probably tell you how many hours we had until Colin's arrival. I would be so much more uncomfortable than I am right now. I am so glad things didn't go according to plan, but it turns out I can be a bit of a control freak, and I didn't really see that initially.
Last Monday night, Stinky and I had gone through the nightly snuggle during the evening news and he'd fallen asleep. I got something to eat and took something to help me sleep. I got back in bed, took one bite, and my water broke. I panicked. With Stinky, that never happened. Also, my family was leaving at
o'dark
thirty the next day to attend my grandfather's funeral in Arizona and to be honest, I really wanted my mommy at that moment. This changed everything. Telling
WBH
what had happened, I completely lost it.
On the phone with the birth center, the nurse asked me a lot of questions, and told us to come in. "You should know, "she said, "when you get here, you're going to have your c-section. I just want to give you time to wrap your head around that. Your baby will be born tonight."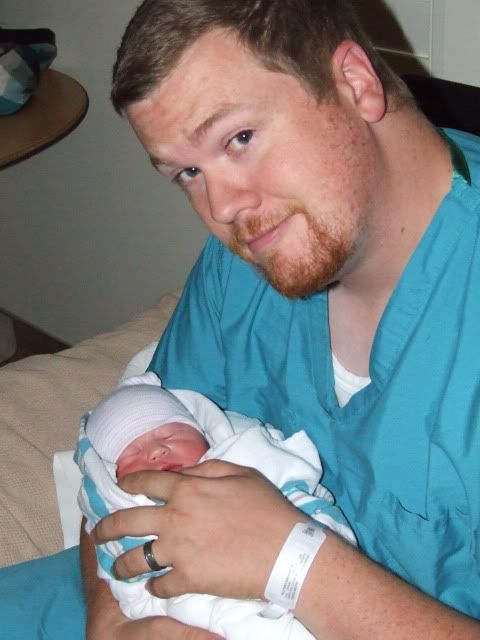 That night, WBH shaved 20 minutes off of his good-traffic travel time. He joked that if we were pulled over, the officer would see the suitcases and heard the words that were coming out of my mouth and we'd probably get an escort to the hospital. Contractions, which hadn't bothered me all day, were coming hard and fast since my water had broken, and I said a few things that don't need to be repeated. In between pains, I kept saying to my belly "We had a plan, kid! This is not it!"
We'll skip the details of the surgery- honestly, I had taken something to help me sleep, and once I was numb I wanted to take a nap, so I don't remember a lot before hearing my baby's first cry. Those cries wake us up right from the start, don't they? When Colin was born he let out a scream and kept on going, yelling his displeasure at all within the sound of his voice. He was big and loud, and apparently this wasn't in his plan, either. We had to laugh as the nurse said "Whoa there, Bubba." He was born just a few hours into his Uncle Bubba's birthday.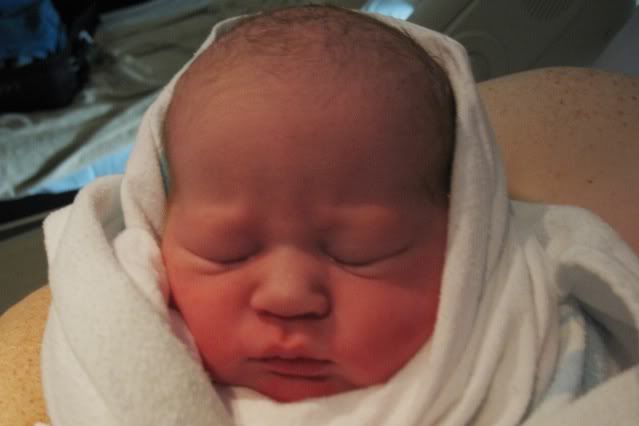 Recovery went well. I was up and moving much earlier than with Stinky's delivery. My family was able to come and meet Colin before they hit the road. Stinky and
WBH's
parents visited later that day as well. Stinky came in and asked immediately, "Where's my baby?" The look on his face when he first saw him was heaven. He didn't take his eyes off him, until we gave him his gift from Colin: a robotic dinosaur puppet.
We spent two days at the hospital- my recovery was pretty normal and Colin adjusted well to life on the outside. We were glad to have the time just the three of us, but I wanted to go home, and I missed my
Stinkasaurus
Rex.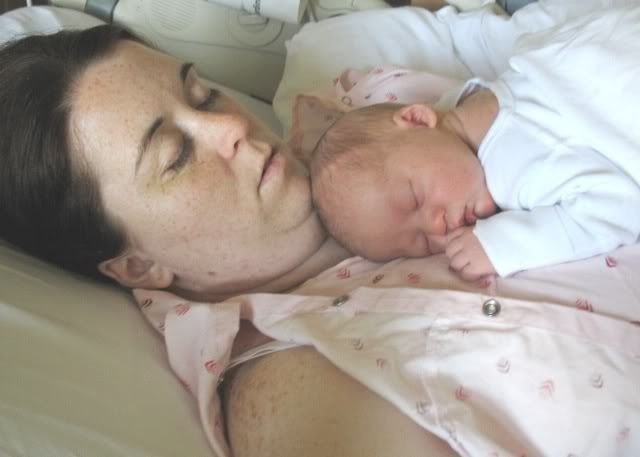 Time at home has been good. Stinky still adores him and wants to help with everything. He's quite the baby expert, in his own mind I have to limit my activity, which is hard, but
WBH
has lived up to his name in
every way
, not only taking care of us and our house, but also my parents' home and dog. I wake up to a clean home everyday, and he's not letting me push myself to far. Colin is well on his way back to his birth weight and is a good natured and mostly patient guy about while I figure out this whole mother-of-two thing, which is another post in itself.
I have to send out a big, big THANK YOU to
WBH's
parents, who watched Stinky, along with
NoNuts
and Brody while we were at the hospital. Talk about above and beyond- and on extremely short notice. We're grateful to our friends at church who have brought us amazing dinners- such a nice change from hospital food.
It feels like we're settling in to normal life- plus one now. I'm not quite where I can't remember life without him- but I love life with him here.
Oh, and for now, I'll just be calling him Colin here on the blog. All the nicknames I can think of at the moment are vampire-based, and that's not a nice thing to saddle a little guy with.