Oh, Blogger. Sometimes you make me sad. Sometimes you eat up my posts and then I have to write them all over again. Thanks for only eating half of this one, today.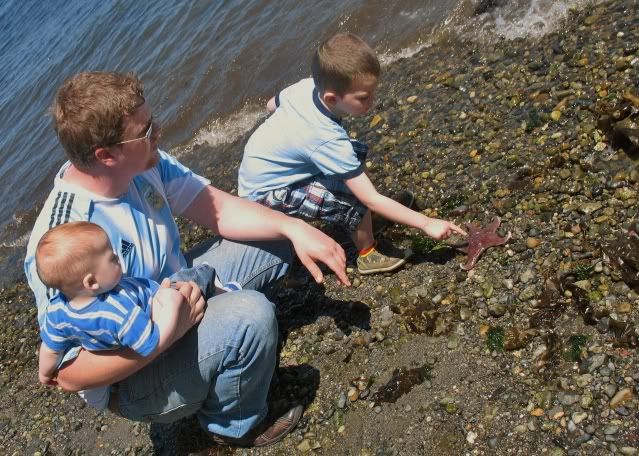 This weekend was so busy, but so nice. The weather was stunning, temperatures were perfect. We heard about an activity put on by the zoo at a local beach- so Swe walked the beach with a naturalist, helping to catalog the sea life there. We mostly saw barnacles, but also saw the leather sea star that Stinky's petting above, and a hairy helmet crab. We hear about this at Sounds Fun Mom, which is a great resource if you live the South Puget Sound area. She lists events several times a week, so you may want to subscribe. After an hour of listing animals, Stinky decided he was done, and introduced himself to a group of siblings, and played with them for the rest of our stay at the beach. I spent that time making sure Rotten didn't eat every rock he could get his hands on, much to his displeasure.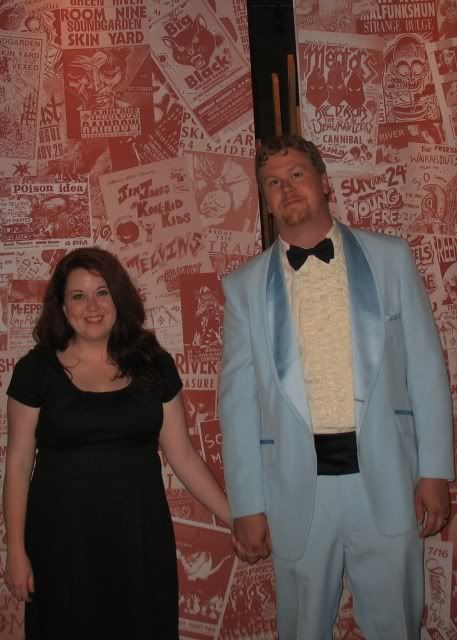 Later that night, WBH and I chaperoned Prom. Like his suit? We were at the EMP, so we got to visit all the exhibits while we were there- Nirvana, Jimi Hendrix, and Battlestar Galactica all had displays. I played Joan Rivers with another staff member's wife, critiquing dress choices, and WBH joined a dance circle. We've chaperoned 7 proms now, making this the tenth prom I've attended. Fun as it might be to go get a formal dress and all, I'm glad I don't have to be a teenager again. Though the picture doesn't show it well, my hair was rocking that night.
We only made it through the first hour at church on Sunday- neither child cooperated for more than that, and were both put down for naps the moment we got home. Later that evening, we went to the birthday barbecue for WBH's co-worker. Stinky and Rotten both enjoyed swinging in their hammock- which is, coincidentally, what WBH is getting for his birthday and should be arriving sometime today.
Now, it's back to life as normal. I've been trying to get our house in order for the last few days, but my children's attitudes have made it a challenge. Wish me luck as I try to get my ducks (and ducklings) in a row today!