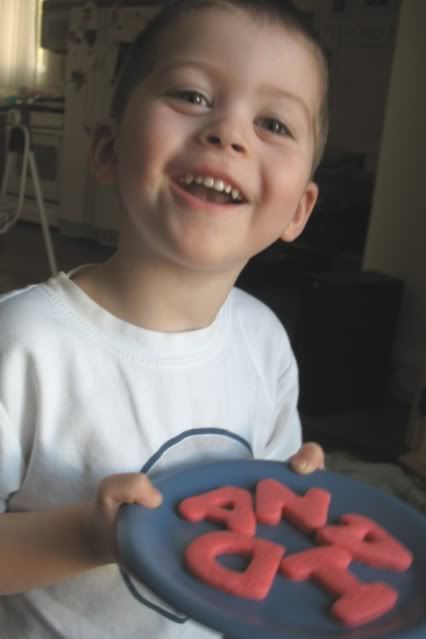 Jello cookies are just plain fun. Now, I've only made them with lime Jello and Strawberry Jello, so those are the only flavors I can vouch for. We took the opportunity to practice letter recognition, so we made cookie sets for our whole family and many friends. Unfortunately, my "r" cookie cutter is missing, so we had to get creative with some names. As always, let me know if you try these out- I imagine these could make some great seasonal treats with the right cookie cutter/jello combination.
1/3 cup shortening
1/2 cup sugar
1 (3 ounce) package jello
2 eggs
1 tsp vanilla
2 1/2 cups flour
1 tsp baking powder
1 tsp salt
Cream shortening and sugar. Add jello and eggs until blended, then slowly add dry ingredients. Roll to 1/3-inch and use cookie cutters to get desired shapes.* Bake at 350 degrees for 6-8 minutes, depending on size. Cool on rack and enjoy!
*Alternately, you can ball the dough, roll in sugar and flatten with a glass. Check what the bottom of the glass looks like first, though. I'll tell you why sometime.
As always, please let me know if you make these and how they turn out!