Stinky and I invited my mom to the Tacoma Farmer's Market with us today. We needed apples! Stinky usually gets one that he works at all day long, and was broken hearted when we ran out this week- honest to goodness, crying big tears. He doesn't wake up well. I didn't think to bring my camera, so I'm so glad I figured out how to transfer cell phone pictures!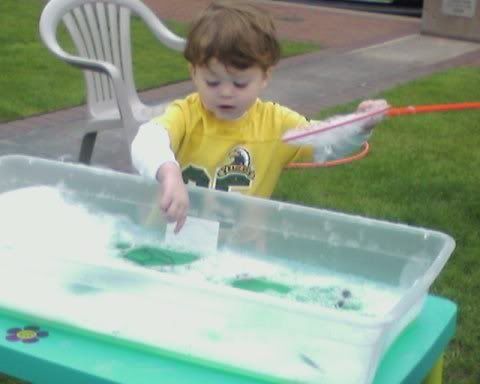 After scouting out the booths, we took a break at
TacomaMama'
s wonderful bubble and chalk area. It kept him occupied for somewhere between 45 minutes and an hour, with a lunch break in the middle. He didn't always get quite how to work the bubble wands. Inhaling, for instance, can leave a bad taste in your mouth.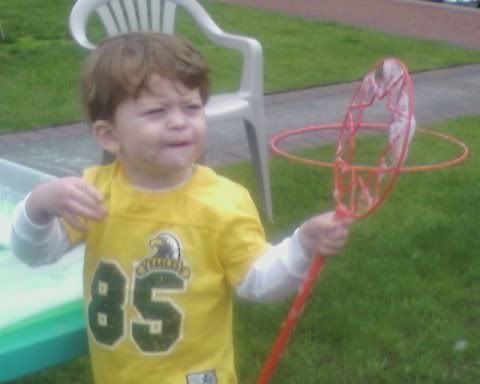 A latin band was playing, and Stinky spotted the kndergarteners on a field trip dancing (two of his favorite things together: big kids and music) and had to join in. We found a great deal on apples, and I picked up some gorgeous creamy-yellowy wool yarn for the dishcloth swap package I'll be sending- it's from a company called SmartMonkey that repurposes yarn. It was hard to choose only one skein- I wanted them all for myself!
After lunch and shopping, we had to clean the soap out of Stinky's mouth- so we popped in to Hello Cupcake at the end of the trip (side note: if you live in the area, this store is worth the trip! Everything here is good!) He proceeded to eat the frosting and refuse the cake. Grandma and I had to step in and help him out. Really, it would have been wasteful not to.
Pictures tomorrow of our finished "Strange Creatures" wall. I can't wait to show you- it looks so cool!