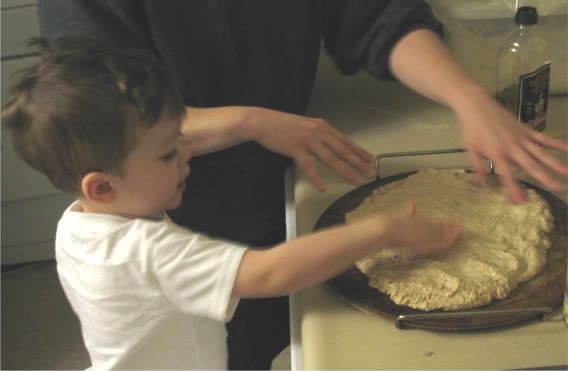 Stinky got to help me make
foccacia
bread last night. It's my simplest recipe, but we all love it. I varied it last night by replacing half the flour with whole wheat, and it was delicious. Since the dough can be ready in as little as 1/2 an hour (more if your kitchen is frigid like ours), it's a good last minute option.
2 cups flour (or 1 cup whole wheat, 1 cup regular)
1 tablespoon yeast
2 tsp salt)
1 and 1/2 cups of water (or more to get the right consistency)
Olive oil
preferred toppings
Combine flour(s), yeast, and salt. Add water slowly, mixing until you get a consistency that is between regular bread dough and pancake batter. Do not over mix! Gloppy is a good description. Cover and let sit for 1/2 an hour in a warm place, or longer if not in a warm place. It will not quite double in size, but will be half again as big, be bubbly and have spread through out most of the bowl. Meanwhile, preheat your oven. 450 is good for a chewier, thicker bread, 500 produces a crispy bread.
Grease a pizza stone or baking dish with olive oil. When dough has risen, carefully pour it out onto your dish. Do not knead, but carefully stretch it out across the stone or dish- you don't want to break any bubbles that have formed; they're what gives it an awesome texture. This is a good place to have little ones help. After spreading, make indentations in the dough with your fingertips or a fork. Not too many, just enough to let more olive oil settle into. drizzle with more olive oil, and sprinkle toppings (also fun for littles). I like sea salt and rosemary, but oregano and cheese can also be nice. It's all up to you.
Bake for 20-30 minutes, until the top is crispy and golden. Try not to eat it straight from the oven. I usually fail at that. Enjoy!