The late nights are beginning and a sense of urgency is growing. Oh, what fun it is to make your Christmas gifts by hand!
I made a long orange scarf for WBH's secret pal at work- it was the color construction workers wear, super soft and knit in seed stitch- he took it to him before I got a picture. Tonight I am sewing up pajama pants for Stinky's preschool teacher- she commented that she didn't have anything but sweats to wear on pajama day. Then there are these: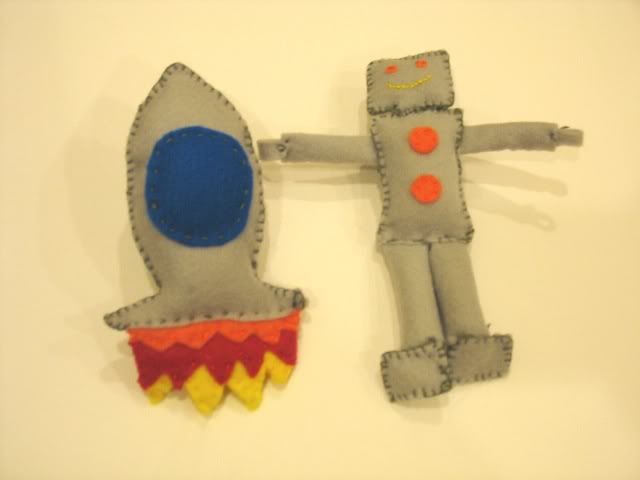 (I used to be anti-felt, and I can't for the life of me remember why. I LOVE it now- it's so versatile, fun, and best of all, freaking cheap.)
For Rotten, add some plastic links and these will dangle from his car seat handle and entertain him during church and car rides (we hope). Not crazy about the finished project on the robot, but I'm a little in love with the rocket ship.

Still to go, adding lettering to an apron and chef's hat for Stinky, WBH and Rotten's ornaments, and a tricky, larger gift that shall remain a secret because it's harder than I thought and if it doesn't work out I don't want its intended receiver disappointed. If it works out, it will be amazing

So that's where I'm at- slowly losing my mind. Anyone else working on handmade gifts and about to lose their mind?