I'm trying something new this week. I've always loved
The Pleated Poppy's
What I Wore Wednesday, but I didn't want to post anything until I'd lost weight and had the time/funds to dress better. Then I had a change of heart, deciding that I can work with what I am, with what I have. So I've used the WIWW to motivate myself to step it up this week, and I'm joining in.
I'm a work in progress here- constructive criticism is welcomed, as fashion isn't my strong suit.
And I promise that if this is a flop, I won't do it to you again.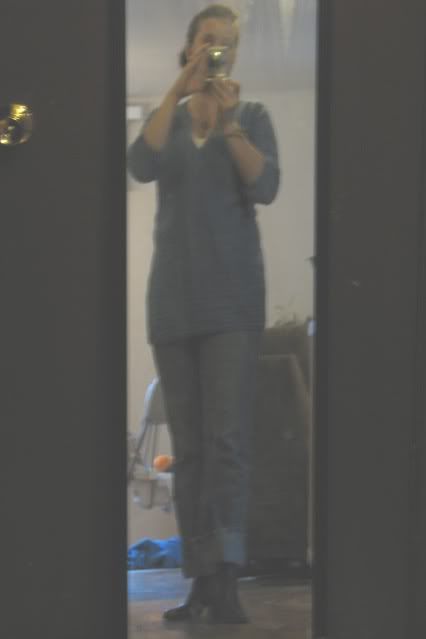 Hanging out a Mom's- I really love this mirror!
Sweater: Calvin Klein (Costco)
Jeans: Eddie Bauer, thrifted
Wild Things Necklace: WBH made
Pipe cleaner and bell bracelet: Stinky made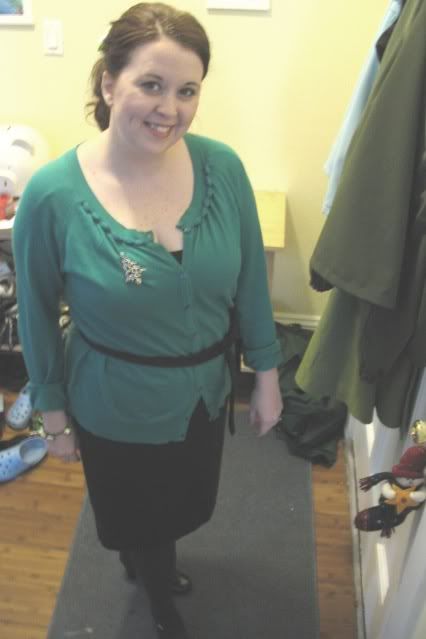 At Church- Not sure about this one, since I was hopping it was a little Joan Holloway meets Emma Pillsbury.
Then Stinky said "That's when I was in your tummy" when he saw this picture. Fail?
Sweater and brooch: Gifted
Belt: thrifted skinny tie bought for an 80's party a million years ago
Herringbone Tights: Target
Bracelet- Stinky made


Stinky's Birthday, at the fine Scottish Bistro
Brown cable sweater: Jeanne Pierre, thrifted
tee: Old Navy hand-me-down
hat and s
carf: made by me
(the hair is a hot mess... I was trying for Rachelle LeFevre hair, I got Roseanne Roseannadanna)

Church Christmas Party
Sweater: Target, thrifted ($2!)
Scarf: Marshall's
Tank: hand-me-down
Pants: Express, thrifted (I didn't think I'd fit in anything from there, I was very excited)
Shoes: thrifted
Earrings: made by me